Frequently Asked Questions about the VW ID.4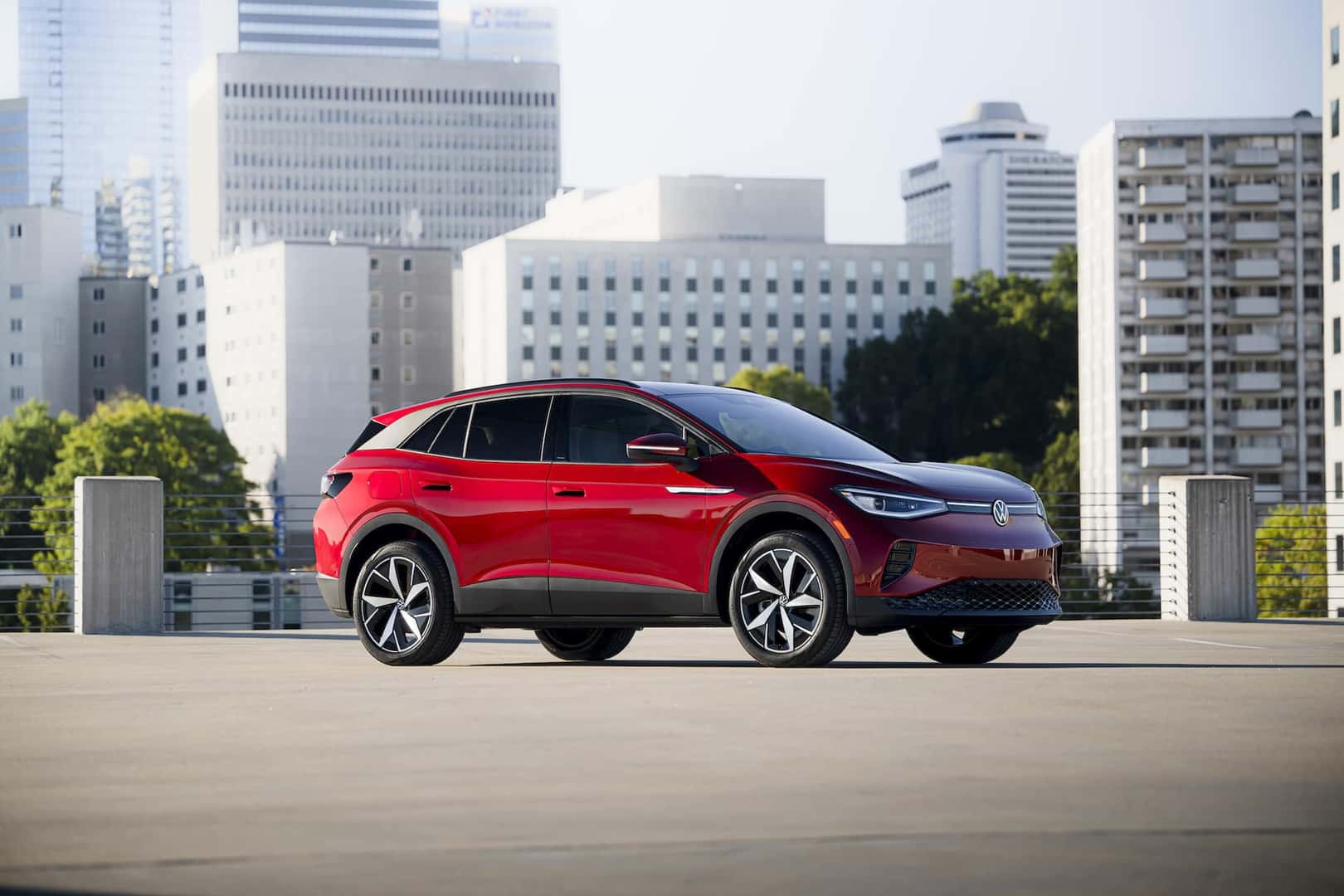 Any new car purchase requires extensive information gathering, and that task could be doubled if you are considering a first EV purchase.  Volkswagen of Duluth sales professionals are fully prepared to inform you and answer your questions about all of our models. But in the interest of time, this article offers answers to frequently asked questions about the ID.4 to give you a head start. 
What Kind of Vehicle Is the ID.4?
The ID.4 is a compact-sized crossover that is about 5 inches shorter than the Tiguan and very close in size to the Toyota RAV4. Like other models in the segment, the ID.4 seats five with folding rear seatbacks to increase cargo space and has a rear hatch for easy cargo loading and unloading.  
In something of a throwback to the original VW models, the base ID.4 has a rear-mounted engine and rear-wheel drive (RWD). All-wheel drive (AWD) models have a second motor in the front.  The battery is mounted flat under the cabin between the front and rear axles. Because the motors are small and there is no transmission or driveshaft, the interior is quite spacious for its exterior size. 
How Do You Charge the ID.4 and How Far Will It Go?
The ID.4 is available with a 62 kWh (kilowatt hour) battery and RWD, which give it an EPA estimated range of 209 miles.  Models with a larger 82 kWh battery are designated with "Pro" in their name and are available with either RWD for a range of 275 miles, or with AWD for a 255-mile range.  
If you can, the best way to charge the ID.4 is with a level 2 charger installed at your home.  This is a simple installation though it should be performed by a licensed electrician. The charger can be either inside your garage or outside.  With a home charger, you can plug in your ID.4 in the evening, and it will be fully charged by the morning.  
Public chargers can be Level 2 for routine charging or Level 3 for fast charging during trips. The latter can charge most ID4 models from 10 to 80 percent in about 33 minutes. The purchase or lease of an ID.4 entitles you to 3 years of unlimited 30-minute charging sessions at Electrify America DC Fast Chargers across the country.
Why Are Fast-Charge Figures Given as 10 to 80%?
One reason Level 3 charging is so much faster is that it is DC current and thus bypasses the AC to DC conversion process. But DC to DC charging is a bit like inflating a tire in which the more it's inflated, the harder it is to inflate further. Thus, charging from 80 to 100% can take as long as 0 to 80%.  And since DC charging is usually done in the middle of a road trip, the 10 to 80% metric assumes you still had some charge left when you started, and don't want to double charge time for that last 20%.
Does the ID.4 Qualify for the $7,500 Federal Tax Credit?
We are very happy to say: Yes!  Every 2023 ID.4 qualifies for the full $7,500 FTC.  This is due to the ID.4 being built in Chattanooga, TN, with extensive US-sourced components.  Also helping is that the ID.4 is not priced like a luxury car.  In fact, the FTC brings the ID.4 starting MSRP down to $31,495.  The FTC can also be used to reduce the monthly payments on a lease. 
What Is the Interior Like?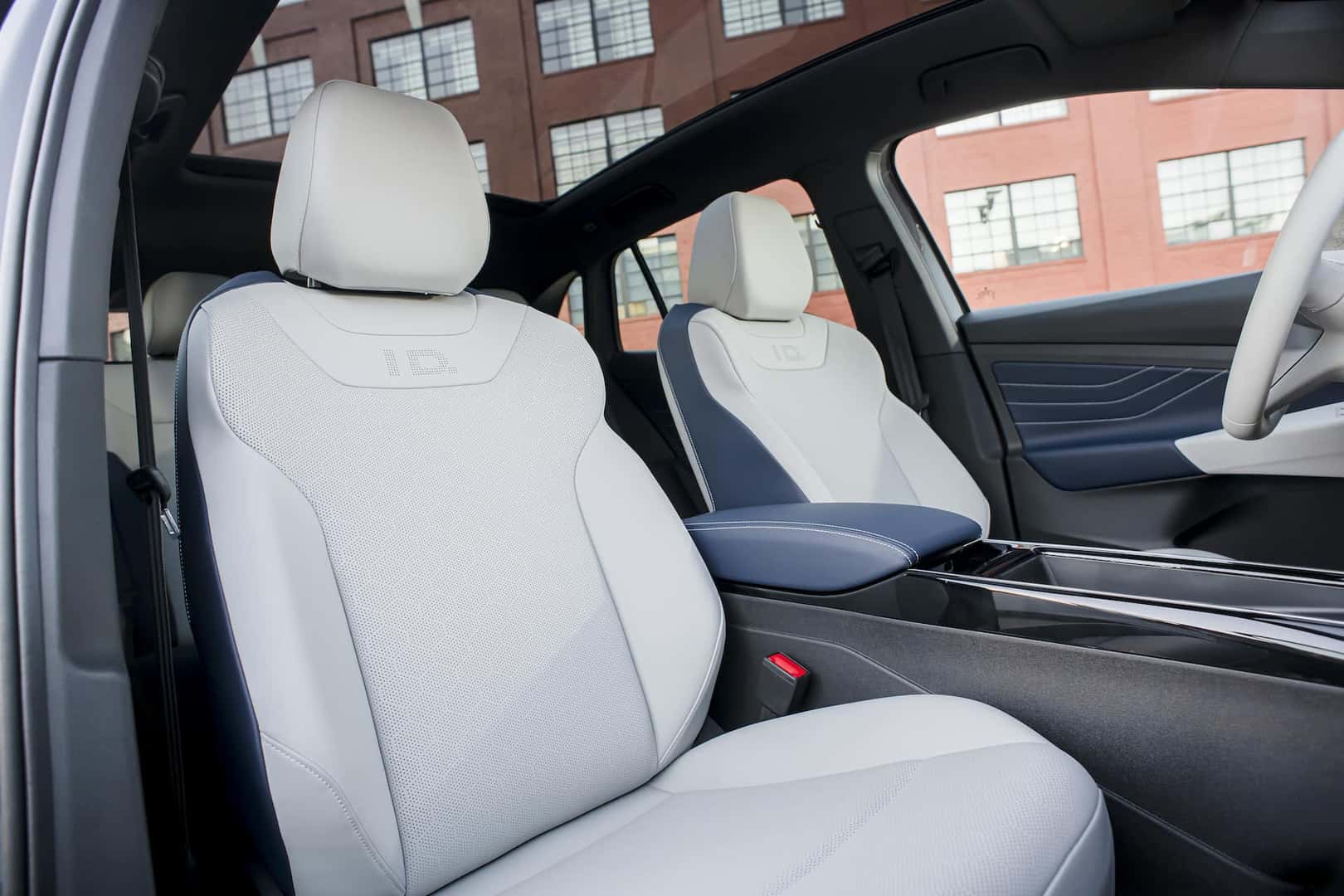 Getting in an ID.4 is like traveling into the near future. A compact digital driver's information center is attached to the steering column to keep it visible no matter the steering wheel position. The standard 12-inch Discover Pro Max touch infotainment display is mounted high and angled to the driver. Its easy-to-read graphics can be controlled by touch or a sweep of the hand with gesture control. Of course, you can also use wireless Apple CarPlay®, Android AutoTM, or MirrorLink® to integrate with your smartphone. 
Anyone in the Duluth area can appreciate this. Using the myVW app, you can heat (or cool) the ID.4. while it is still plugged into a charger. The cabin is comfortable before you get in, and you didn't use battery power to do it.
All ID.4s have standard "Hello ID." natural voice control which is capable of understanding many commands with everyday language, even as general as "Hello ID., I'm cold" to turn up the heat.  Another ingenious innovation is the ID. Light system.  A light strip that runs below the windshield creates various but intuitive light pulses to indicate information such as readiness to drive, turn instructions from the navigation system, brake prompts from driver-assistance systems, and incoming phone calls. When using the Hello ID system, it signals that it is listening, similar to voice activation on mobile phones. When the ID.4 is plugged in to charge, the ID. Light indicates the current level of charge. 
What about Safety and Driver Assistance Features?
Naturally, a car as high-tech as the ID.4 will come standard with the IQ.DRIVE advanced driver technology.  Part of that is the Travel Assist features, which enable semi-automated hands-on driving capability up to 95 mph. Activated by a button on the steering wheel, it uses the Adaptive Cruise Control (ACC) and Lane Assist (Lane Keeping Assist) features to help to steer, accelerate and brake in response to traffic and center the vehicle within lane markings. 
This just scratches the surface of this remarkable vehicle.  For more information, go here and then visit Volkswagen of Duluth for a test drive.  You may be more ready for the EV revolution than you think.